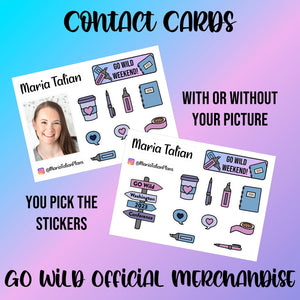 Maria Talian Plans is an official sponsor of Go Wild 2023.
Make sure to fill out every field before you check-out. You can choose specific stickers from the Maria Talian Plans website, or you can simply add a theme and color preference. Adding a picture to your contact card is completely optional, and if a photo is not uploaded that space will be used for more stickers.
Once I get your order I will create a contact card and email you a mockup. One revision is included in the cost. Please reply within 24 hours, or I will assume that you approve of the design.

Each contact card is 2.5 x 3.5 inches.
No discount codes can be applied to this item.
PLEASE NOTE:
These stickers and their designs are all handmade, and therefore some imperfections may occur. Colors may display differently from screen to screen, so there might be small variations in colors in the finished product.
All stickers are permanent, and cannot be easily removed from paper.
RETURNS:
All stickers are made to order, and returns are therefore not accepted. However if there is anything at all wrong with your order, please contact me and I will do my best to fix it.
Thank you so much for visiting!
-Maria Talian