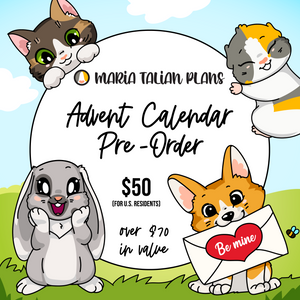 Christmas is my favorite holiday of the year, and I have loved opening advent calendars since I was a little kid! Nothing beats the excitement of waking up every morning to a new mystery gift waiting for you, and I can't wait to share some of that joy with you this year! So much work has gone into making a calendar with completely new designs, and I really think that you will love it!
There are 12 days of surprises included.
All designs are brand new, and based on our shop characters.
Important Information:
There is a limited supply.
Advent calendars won't ship until the start of December, so I recommend ordering it separate from any other shop items.
No discount codes will be applied. Calendars are already heavily discounted, so additional discounts cannot be used.
You'll notice that the price is higher if you live in the US. That is because the website automatically gives free shipping to US residents on orders over $35. Because they are already discounted the higher price just includes US shipping.

Any orders to the US using the Canada option will be canceled.

 
There is not a holiday theme, so most items can be used year-round.
If you're from outside the US and Canada and want to buy a calendar, send me an email at mariatalianplans@gmail.com. I can list one for you on Etsy.
Thank you so much for visiting!
- Maria Talian